The Southern Patagonia Andes - Argentina, South America

Rock climbing & mountaineering expedition in the Andes Patagonia, Argentina with IFMGA Guides
Guillaumet Spire Guided Climbing Expedition in Southern Patagonia
Amy Couloir or Brenner route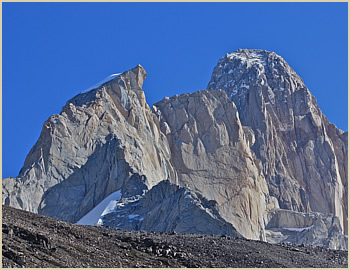 This expedition is a alpine climbing trip in Southern Patagonia. The Aguja Guillaumet is a satellite spire of the Fitz Roy Massif. It takes its name from Henri Guillaumet, a French pilot who flew his small postal plane to small towns of Patagonia crossing the high Andes. Along with Antoine de Saint-Exupery and Jean Mermoz, he established the first mail routes in remote areas around the world.

For this alpine climbing expedition, we strongly recommend hiring a Professional IFMGA- UIAGM Mountain Guide.


Season: November- March
Duration: 6 days
Level: Advanced rock climbers able to follow 5.10/ 60º ice climbs.
Style: Alpine climbing on granite. Some snow/ice (Brenner). Snow and ice climbing (Amy Couloir)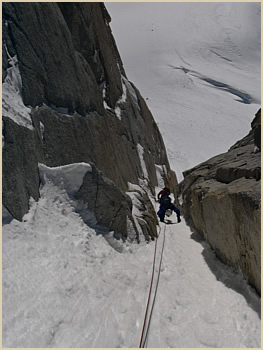 Day 1:
Your mountain guide will meet you in El Chalten, Argentina. Get to know your guide and go over gear.

Night in El Chalten.



Day 2:
Leaving El Chalten with your climbing guide, we hike 3 hours to Piedra del Fraile. This will be our basecamp. Weather permitting, we will continue on closer to the base of the Guillaumet Spire and carry our gear load to Camp I, Vivac Piedra Negra. Wait until weather improves at Base Camp or Camp I, and get ready for our alpine climbing ascent.

Night in tents.



Day 3: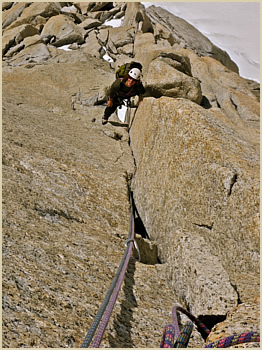 Your mountain guide will get you up for alpine start to climb the Guillaumet Spire by the Amy route: 4 pitches 60-70º snow/ice culoir + 4 pitches of 5.9 alpine climbing. OR, climb the Brenner route on the Espolon Dorado (Golden Spur): amazing granite climb of 5.10+ for just one pitch and the rest 5.6 to 5.9 with some mixed scrambling involved. Rappel down. Hike back to Camp I.

Night in tents.



Day 4 & 5:
Weather days.



Day 6:
Bring loads down to Base Camp and El Chalten. Celebration meal at the end of the expedition with a typical Patagonian asado. End of guiding services.


*This itinerary is a guideline and must be flexible to Patagonia's infamous weather.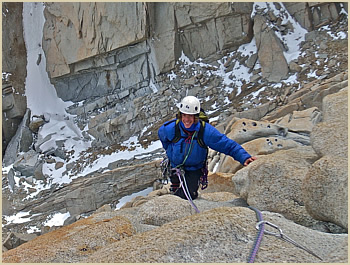 If weather is not favorable for climbing your mountain guide will take you to do alternative activities such as:
- Hike to Marconi Pass, which is the entrance to the Patagonian Ice Cap.
- Bouldering and Sport Climbing near El Chalten.
- Hike to Cerro Torre and Fitz Roy base camp.

Your mountain guide will have numerous other ideas for activities to explore such as trekking through the Glaciers National Park or going on a technical trek. If the weather is good and you complete the climbing ascent of Guillaumet within the first few days, your mountain guide can take you to climb more spires or suggest different activities for the rest of your vacation.

Rates: Contact us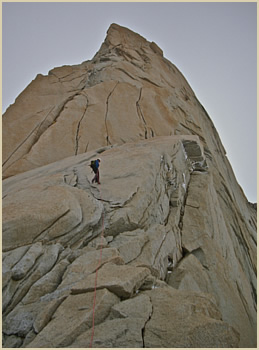 Included: UIAGM-IFMGA Mountain Guide, climbing gear, satellite phone service, tents, cookware, all meals in the mountains, daily camping fee at base camp.

Not included: lodging in El Chalten, meals in town, personal gear such as boots, climbing shoes, sleeping bag, etc.


Let us know if you would like more information about rock climbing with our Professional IFMGA-UIAGM Mountain Guides in the South American Andes of Patagonia. We'd be happy to customize a guided climbing expedition out of El Chalten or El Calafate to climb the massifs of Fitz Roy, Cerro Torre, or Torres del Paine Ranges.

Andescross also has mountain guides available for rock climbing trips in the San Carlos de Bariloche area of the Lakes District of Northern Patagonia, Argentina. Vamos!

Please contact one of our experienced climbing guides at info@andescross.com



Home
What is UIAGM?
Trips dates calendar
What is Patagonia?
About us
In the news
Film productions
Backcountry ski touring
Trekking
Mountaineering
Rock climbing
Heliskiing
Worldwide adventures
Mountain bike
Private guiding
Contact us
Join a Group Trip
Patagonia Trip Notes
Souvenir & Rentals
Photo Gallery
Interesting links
Versión en Español






Andescross latest news
on our blog!





Andescross team is supported by:
map name="Map2">