Let yourself enjoy fully nature without schedules, at your own pace, touring around amazing places with beautiful landscape... all the necessary ingredients for an unforgettable adventure.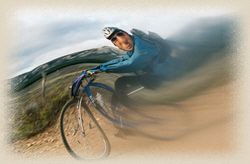 We will bike through different forests of cypress and nothofaghus (lengas and cohiues), along different lakes such us: Gutiérrez, Mascardi and Steffen, wading streams and crossing rivers. We will cross the Andes through all time crossing, crossing the Argentina - Chile border at Manso Inferior river valley and through the lakes with boat cruising over 3 lakes.

Biking through single track trails and off beaten roads adjusting our rhythm and equipment to the terrain demands. In the evening we will delight ourselves with a tasty meal by the bonfire and sleep at unique lodges or hotels far away from the urban areas. We have daily mountain biking excursions (full or half day) and multiday guided mountain bike trips (two to 8 days).

If you would like to do a biking trip in Patagonia but you do not find it quoted in this website, please just tell us about it and we will arrange it for you, Just write us to info@andescross.com, we are at your service.
Daily mountain biking Excursions | Multiday mountain biking trips
Excursions
Trekking | Backcountry skiing | Heliskiing | Kayaking | Mountain biking | Climbing | Why northern Patagonia? | About us | 10 days trips with Andescross | Crossing the Andes - trekking | Contact us | Mountaineering | Links | Our clients | Cuisine & Recipes | Patagonia Mountain Film Productions | Home
---
Andes Cross
c.c. 393 (8400) San Carlos de Bariloche - R. N. Patagonia - Argentina
Phones from outside of Argentina
+ 54-9-2944 633581
Phones Within Argentina
(02944) 15 63 35 81
Within North America
: California, USA +1 530 448 8399
skype: andescross
e-mail:
info@andescross.com
http://www.andescross.com
---

Design and development 1997 - 2010© K2 webdesign. All copyright reserved
It is forbidden to copy partially or the whole design without authorization of K2 webdesign or the photographers
San Carlos de Bariloche