Mountain biking through valleys and mountains in North Patagonia, San Carlos de Bariloche surroundings. Multiday excursions may take two or a six days, staying overnight in tents and lodges. These excursions include: transportation, equipment and gear, meals, lodging (hostel or tent) and guide.
Season: November to March (please ask us to confirm season, depending on weather)
Scheduled dates:
27th November 2010
26th February 2011
Duration: 8 days
Mountain biking distance: 188 km (117 miles)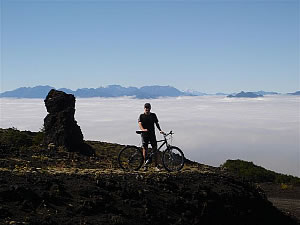 Ride your mountain bike through the different cultures and landscapes of the Lake District of Northern Patagonia. From the dramatic steppe of Argentina to the rainforest of Chile, you will navigate lakes and gravel roads across the mountains. Enjoy the local wine and cuisine while taking in the majestic view of 3 volcanoes: Lanin, Choshuenco, and Villarica. There are many natural hot springs and thermal baths along the way to soak tired legs!

Itinerary:
Day 1: Welcome to Bariloche!
We pick you up at the airport with our van, introduce ourselves, and show you a bit of our beautiful town. Bariloche, the "South American Switzerland", is situated on the shore of the great Nahuel Huapi Lake and is surrounded by National Park. Briefing of the trip with the whole group. This night we'will enjoy dinner at a local Parilla with authentic asado (grilled steak) and great Argentinean wine.
Night at a small and cozy Hosteria (3 stars)


Day 2: The Patagonian Steppe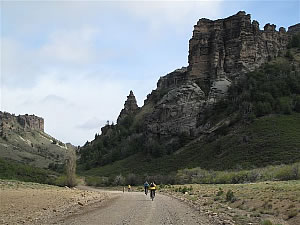 We drive for 20 km out of the town of Bariloche. Prepare our mountain bikes for a nice and smooth dirt road along the turquoise-colored Limay river. We will pass through beautiful Estancias and Gaucho farms. See the Argentine ranch culture of cattle, horses, and sheep. If we are lucky, maybe we'll spot a guanaco on the way in its wild environment or a giant condor's nest. We will end our bike ride at the tiny village of Villa Llanquin and drive to the junction of the rivers Limay and Traful. In this
remote area, we spend the night in a locally owned Hosteria with an incredible view of the volcanic rock towers of Valle Encantado (The Enchanted Valley). Night at Hosteria (2 stars).
Total mountain bike ride: 15 miles on a dirt road with up and down hills.


Day 3: Paso Cordoba to San Martin- The Steppe and lots of Lakes
Today we witness the visibly dramatic transition of the landscape from the Patagonian Steppe as we enter the Andean range. We start the day by driving to the top of the pass (Paso Cordoba) and the riding begins with a fun downhill through amazing rock tower formations. We pass through the tiny "Far West alike " village of Meliquina and have a tasty lunch outdoors at nature. Then we drive or bike to San Martin de los Andes at the foot of Lago Lacar.
Night at Hosteria in downtown San Martin de los Andes (3 stars)
Dinner on your own

Total mountain bike ride: 20 miles, optional to increase the amount of riding according to passengers
Elevation: 600 mts gain by van and the bike descent another 500 mts


Day 4: Andes crossing– Hua Hum Pass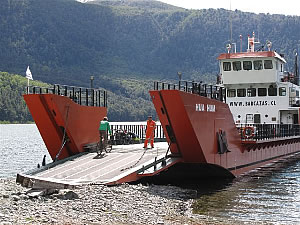 Today we cross the Andes, leave Argentina, and enter Chile. Chile can be described by these words: rainforests, volcanoes, hot springs, rivers, ocean, and seafood! It is a beautiful country with breathtaking nature all around. We will mountain bike ride right from our hotel in San Martin to the frontier observing the transition of vegetation across Lanin National Park. After customs, we ride another 10 km by van or bikes according to timing with the Ferry that we use to cross Lago Pirehuico. This hour and a half boat ride lets us appreciate the beauty of Volcan Choshuenco and delivers us to Puerto Fuy. Little bike ride to the small town of Huilo-Huilo after the ferry crossing. Night in a one of a kind hotel, Montaña Magica Hotel, that we give endless stars. This "Tree House Hotel" has amazing architecture that fits right into its natural environment and belongs to Huilo Huilo Conservationist Reserve. Probably in terms of Hotel is one the Highlight of the trip! Please, spend one minute checking their website (www.huilohuilo.cl)

Total mountain bike ride: 40 miles on gravel road
Elevation: 400 mts gain- 500 mts descent.


Day 5: The Hot Springs and Waterfalls of Chile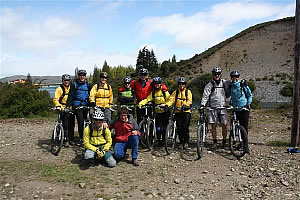 We take an easy morning in this special hotel with its hanging bridges and forest of humongous trees. Optional short hike to the Waterfalls of Huilo-Huilo. We'll drive to Termas de Coñaripe, the bike enthusiasts can ride part of the way. Relax in the beautifully landscaped hot springs and eat
lunch in the Restaurant of Coñaripe. Van ride to the city of Pucon, the outdoor recreation center of Chile, at the base of Volcano Villarica and along the shore of the lake by the same name.
Night in Hotel (3 stars)
Dinner on your own


Day 6: Ascent and Descent of Volcano Villarica
The plan is to mountain bike ride up Volcan Villarica as high as we can (11 miles). This is an active volcano, its top is covered with snow year-round. You'll be able to see the smoke coming out of the top! We prepare a lunch for you at the top of the ride at the base snow line. Pictures, relax and enjoy the view of the neighboring Volcan Llaima, and then a fun downhill on gravel road all the way to Pucon again!
Optional Hot Springs
Night in Hotel (3 stars)
Dinner on your own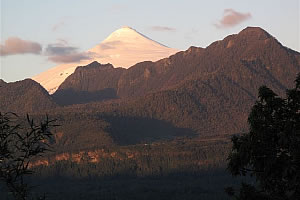 Total mountain bike ride: 22 miles
Elevation: 1000 meters


Day 7: Between Two Volcanoes
Today we head back towards the west. Departing from our hotel in Pucon on our bikes, we take a gravel road between the west side of Volcan Villarica and its neighbor, Volcan Quetrupillan. After biking we will have lunch waiting for you close to some waterfalls of the Villarica National Park. Drive to hot springs for a relaxing afternoon and return to Pucon by van.
Night in Hotel (3 stars)
Farewell dinner included

Total mountain bike ride: 20 miles
Elevation: 500mts (1500 ft)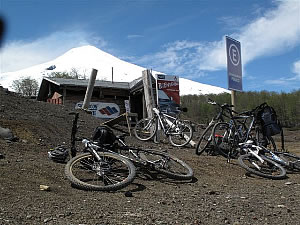 Day 8: Adios to the Andes
Drive to airport in Temuco or Valdivia according to convenience of the group.
We depart early in the morning to get in time to airport.
Adios friends and end of services.


Included
- Professional Mountain Bike Guides
- Private transportation throughout the whole trip
- Mountain bikes with front suspension and helmets
- All hotel accomodation
- Welcome and farewell dinners, day 2 Dinner
- All breakfasts and lunches

Not Included
- Clip pedals and shoes
- Meals in restaurants not specified in itinerary
- Air fare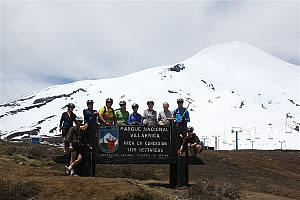 - Hot springs fees

Rates: min. 4 people,


price per person
4 to 7 persons
8 or more people
US$ 2720.-
US$ 2140.-

Season: November to March (please ask us to confirm season, depending on weather)
Scheduled dates:
18th December 2010
5th March 2011
Duration: 8 days
Mountain biking distance: 210 km (130,5 miles)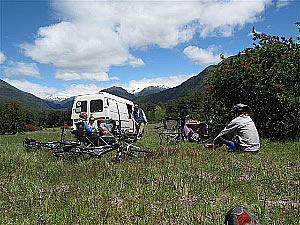 Lake District trip across the Andes of Argentina and Chile in Mt. Bike

This trip is a magic combination of two countries, two Andean crossing and two different cultures Biking nearbies of Bariloche town and entrance of Nahuel Huapi National Park, then a lake crossing across Perez Rosales crossing 3 lakes to arrive to Chile. Descend of Volcano Osorno, visit the Pacific Ocean and few salmon farms Pto Varas town which is one of the nicest tourist town in Chile, then another biking crossing through Paso Puyehue to arrive to Villa Angostura and bike in Arrayanes forest.

Itinerary:
Day 1: Welcome to Bariloche!
Welcome in Bariloche.
Night in Hotel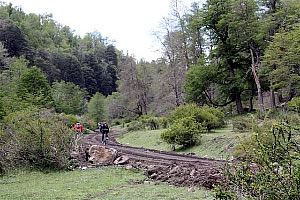 Day 2: Green farms and gaucho villages
Drive 80 km. From Bariloche to the Manso River valley getting to the bridge called La Pasarela. This is a majestic river that goes all the way to the Pacific Ocean on the Chilean side. Bike ride of 45 km in single mountain trail for 20 km and then another 25 km on gravel road. Visiting the local farms, gauchos and villages on the Chilean side. Single track mountain bike ride. Back to Bariloche .
Night at 3 stars hotel

Total mountain bike ride: 20 km single track- 25 gravel- Optional, car support


Day 3: Exploring nearbies of Bariloche area
One day biking in Bariloche surroundings- Climb up to Balcón del Gutiérrez a 5 km steep uphill for 1:30´ , pass through the Catedral Ski resort Village. Then 6 km of downhill bike on asfalt / gravel road. 10 km on gravel all the way to Colonia Suiza.
Night at 3 stars hotel

Total mountain bike ride: 30 -40 km day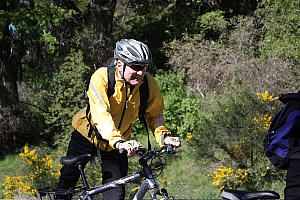 Elevation: 400 mts gain


Day 4: Lake crossing through the Andes to Chile
Early in the morning we depart to Pto Pañuelo in Llao – Llao Peninsula, taking our first boat of the day to get to Pto Blest (1-11/2 hs). Once in Pto Blest we will bike 3km to get to Frias Lake, which is a emerald lake with glacier sediments. Another 20 minutes boat across these lake. View of Mt Tronador (3554 mts), the highest peak of the area. Once in Pto Frias we will bike 27 km to Peulla, which is a Chilean little village where we will do Customs. Boat cruising across Todos los Santos lake (less than 2hs) arrival to Petrohue. Drive up to Volcano Osorno hut at 1600 mts over sea level.
Night in refugio (mountain hut) at the foot of Volcano Osorno.

Total mountain bike ride: 35 km on gravel road
Elevation: 400 mts gain.


Day 5: Descent of Volcano Osorno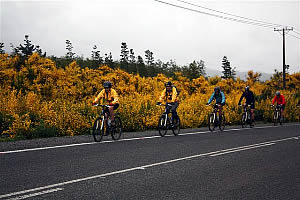 After a good breakfast at the base of the snow line of Osorno volcano with view of Lago Llanquihue, we ride 17 km of mountain biking downhill to the Lake. From there bike 55 km from Ensenada to Ralun or also Cochamo town, besides Petrohue river getting to the Pacific Ocean at the Seno de Reloncaví. In the afternoon we will drive to Pto Varas and spend the night there.
Night in Hotel in Pto Varas (3 stars)

Total mountain bike ride: 35 miles on gravel road
Elevation: 300 mts, mostly flat gentle hills.


Day 6: Cross the Andes to Argentina
Drive to Paso Puyehue (border limit) 200 km north from Pto Varas. We will drive from to the highest point of the pass, then after crossing the border we start our descent on mountain bikes all the way to Villa La Angostura (50km ride on asphalt road). Night in Hotel (3 stars) in Villa La Angostura

Total mountain bike ride: 60 km
Elevation: 500 mts elevation gain 60 km, 50% downhill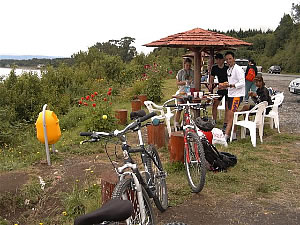 Day 7: Arrayanes tree forest
24 km mountain bike ride in Peninsula de Quetrihue besides Lago Nahuel Huapi. This peninsula is vegetated by Arrayanes trees, family of Nothofagus trees with a very beautiful orange bark. Single trail biking ride, an easy mountain biking day.
Night in Villa La Angostura.
Drive back to Bariloche. Farewell dinner
Night in Hotel (3 stars)

Total mountain bike ride: 12 or 24 km if we do round trip


Day 8: Adios to the Andes
Drive to the airport of Bariloche
End of Services.


Included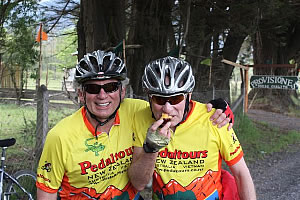 - Private Transportation during the whole trip
- Mountain bikes, helmet and accessories (spare tire,etc)-
- Proffessional Mountain bike guide,
- 3 International boat cruising ticket
- All nights in hotels or mountain huts specified in the itinerary
- Meals during the activity
- Welcome and farewell dinners

Not Included
Car support on the day 3 just during the lake crossing.
Air tickets
Meals while in towns
Hot springs
Meals in restaurants and town not specified in itinerary
All what is not described in the including part


Rates: min. 2 people,


price per person
2 to 3 persons
4 to 7 persons
8 or more people
US$ 2580.-
US$ 2180.-
US$ 1920.-
We can arrange a mountain bike tour for you with the duration that you wish, crossing the Andes to Chile, rinding around different trails in Bariloche and its surroundings in the Northern Patagonia. Please just ask us for further information to info@andescross.com
Trekking | Backcountry skiing | Heliskiing | Kayaking | Mountain biking | Climbing | Why northern Patagonia? | About us | 10 days trips with Andescross | Crossing the Andes - trekking | Contact us | Mountaineering | Links | Our clients | Cuisine & Recipes | Patagonia Mountain Film Productions | Home
---
Andes Cross
c.c. 393 (8400) San Carlos de Bariloche - R. N. Patagonia - Argentina
Phones from outside of Argentina
+ 54-9-2944 633581
Phones Within Argentina
(02944) 15 63 35 81
Within North America
: California, USA +1 530 448 8399
skype: andescross
e-mail:
info@andescross.com
http://www.andescross.com
---

Design and development 1997 - 2010© K2 webdesign. All copyright reserved
It is forbidden to copy partially or the whole design without authorization of K2 webdesign or the photographers
San Carlos de Bariloche
---
Andes Cross
c.c. 393 (8400) San Carlos de Bariloche - R. N. Patagonia - Argentina
Phones from outside of Argentina
+ 54-9-2944 633581
Phones Within Argentina
(02944) 15 63 35 81
Within North America
: California, USA +1 530 448 8399
skype: andescross
e-mail:
info@andescross.com
http://www.andescross.com
---

Design and development 1997 - 2010© K2 webdesign. All copyright reserved
It is forbidden to copy partially or the whole design without authorization of K2 webdesign or the photographers
San Carlos de Bariloche