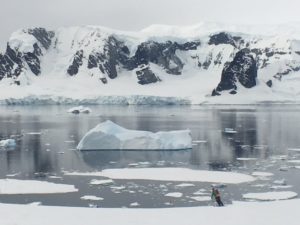 Back in 2008, almost a decade ago wow!  I got the Ski bug so bad on me, that the only thing I could really focus was in researching places to ski, and ski more and more, and the steeper the better. So everything was well invested into skiing and got way further of what I asked for.  All was planned to get into deep mountains, somewhere where was a lot and a lot of snow. So those years, I was leaving home in Patagonia in March/ April to go to Alaska and do dumb things like taking a plane with Mike Meekins or Paul Claus to get into the Chugach or  Wrangells  range, or other remote place and spend two weeks in a tent to try to ski good lines. The dream came true..
So I had a very deep passion for it, until I got stuck 14 days in a tent without being able to move much out since the snowfall was a meter a day. I wanted to ski, not to spend lots of downdays in a tent
Then I had enough and I got fancy. No more tents for a while!
So the story goes as,  I had already placed the seed of asking all around how to ski in Antarctica, sending emails and researching. 
So climbing in Yosemite in 2008 I got an email from a well known Antarctic explorer, Doug  Stoup, and he invited to visit him in Lake Tahoe, so we had dinner with his family and at some point of the dinner said : "You are in". At that time I was 32 years old, and couldn't not believe that another trip came true, couldn't believe this was going to be true.
Big glaciers, rough oceans, whales, orcas, skiing, deep colors, white fiords and ski lines,  are part of this  dream  and could not stop thinking about skiing in the white continent: Antarctica was going to be true.
Today is just a majestic yearly adventure. And I still loving it as the first time. The Skiing is amazing but the people, my partners there, makes the trip incredible.
Finally, November 2009 I got on board. Since then I have gone to the Peninsula Antarctica six times with all different clients from all over the world.
One year, in 2015 decided not go to take a break of the rough Drake passage, and was enough. As soon as I saw the posts of my colleagues was a feeling of missing out of one of the best moments of the year. 
I want to encourage people to come to visit the Antarctic Peninsula, it is an amazing place and not many companies offer the possibility of doing a Ski Touring trip in Antarctica. The backcountry access is very simple accessing with zodiacs, divided in groups of 4 per guide and each zodiacs partners with another team of 4 people
This boat has an amazing shape to travel through the Drake Passage and offers amazing crew.
Some of the most well known persons in the Ski Industry travels on this once a year cruise, so beside experiencing the amazing skiing in different bays, covering  a lot of Antarctic Islands and exploring and enjoying beautiful landscape, you have the crazy fauna of human beings.
Many characters like Chris Davenport,,  Andrew Mc Lean, the king of steeps and other persons joins this boat yearly.
This boat collects UIAGM-IFMGA GUIDES from all over the world and in between all this big family we share 13 days of Antarctic Ski Passion, Lectures and Antarctic history
Hope you join us someday!