Tips to Ski in Patagonia, Argentina & Chile, Southamerica
S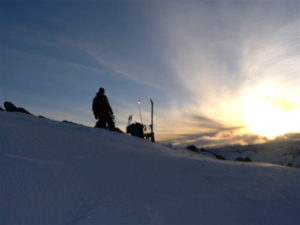 kiing in Argentina had become a popular and wild destination for fanatic skiers who want to avoid the summer months of July and August in the Northern Hemisphere and come down south to Ski the Andes. The Andes is the second largest chain of mountains in the world after the Himalayas
There are plenty of options to plan your Andes Ski Vacation, but mainly, Argentina Ski destinations  are divided in two main regions to explore and spend your ski holidays in Southamerica:
The Northern Patagonia region, which is the one I recommend, because  infrastructure, beauty of lakes and forest.  The Patagonian region is scenic and lots to see and explore. Mountain in this area are around 2200 meters avarage and even if the ski lines are shorter than the higher Andes, you can still ski from 300-600 meteres runs.  The Higher iconic peaks as Mount Tronador and Volcan Lanin  are in between 3500 and 4000 meters and offers amazing 2000 meters runs (specially Volcan Lanin). I recommend to base yourself in Bariloche, from here you can easy access to La Hoya Ski Resort in Esquel, to Cerro Catedral Ski Resort and Refugio Frey hut backcountry, to Cerro Bayo, Villa La Angostura. Also facilitates the access to Volcanoes in Chile, and you can fly directly to BRC or Osorno in Chile (this days flights to chile are cheaper). So even if the weather could be tricky,  if you get bad weather there is good tree skiing and the  town of Bariloche to hang out.
The High Andes of Mendoza, where Aconcagua and other big peaks are. The Mountains in Mendoza region surrounds the 5000-6000 meters with Aconcagua of 6959 meters being the highest of the Whole Americas. It is very nice to Ski Las Lenas when is good and sun and snow are there,. World Class Ski Athletes goes there every year to pick their steep lines  and the terrain is huge.  But when weather is bad  you get stuck in a little ski resort with no trees. So tree skiing is not an option, which saves a lot of days when you are a fanatic backcountry skier. You can stay in Las Molles where is a bit lower down the valley and explore some backcountry from there. Also Mendoza are offers Cajon Grande, a hut runned by some french guys, hot springs and all the show!
When can you ski & snowboard in Argentina? When can you ski in South America?
The best time to ski in Argentina & Chile, is from late july to end of September, regarding ski resorts access and lower elevation mountains.
Backcountry ski huts in Patagonia gets their best ski period from mid july to late septebmer.
If you want to ski the volcanoes best season is from mid september and all october, depending on the year. The volcanoes in Chile and Argentina goes in between 2400 meters and 3777 meters, being Volcan Lanin,  a ski jewell. The reason to ski the volcanoes later in the season, is because you get the snow to "corn up", in july and august even if is possible, you will ski bear ice on the top parts and also days are shorter!
Where is the best place to backcountry ski and  snowboard in Argentina, Chile, Patagonia South America?
From my point of view, the best place to be based for Ski Season in the Andes is San Carlos de Bariloche, from here you have easy access to Chile, to Cerro Bayo Ski Resort, to Cerro Catedral Alta patagonia Ski resort lifts (What provides easy access to Nahuel Huapi National park mountains, Frey hut, Monte Tronador). Also you can easy travel to Esquel , to ski La Hoya Ski Resort, To Ski resort Chapelco in San Martin de los Andes. The city provides amenities for bad weather days and easy to travel in and out.
Then, if you want to visit el Chalten, Calafate, Fitz Roy area, you can fly to El Calafate or drive through Ruta 40 and get to down south.
Tips to ski Travel Vacation in Patagonia, Ski Resorts in Argentina and Chile. 
Portillo Ski Resort: Based on the Chilean side, right in the border with Argentina, close to Aconcagua. It is a hotel in middle of the Andes, with lift and backcountry access. World class skiing when is good, but gets tricky if weather stays in the alpine. High alpine terrain.
Las Lenas Ski Resort: Based 200 km from Mendoza city. Works perfect when the lifts are open, since you access fast to high excellent ski terrain. When weather is bad, is tough since all skiing in in the alpine
Chapelco Ski Resort: Excellent place to be, good tree skiing nearby of the town of San Martin de Los Andes, good access to the backcountry and no crowds. Good couloirs, good scenery, lakes. And a nice town to spend your vacation and is a town not a city
Cerro Bayo Ski Resort, Villa La Angostura: Small boutique Ski Resort in Patagonia, very small, cozy, handful of people. Excellent backcountry skiing with easy lift access.
Cerro Catedral, Alta Patagonia Ski Resort, Bariloche: The most modern, European style ski resort. Fast lifts, excellent access to the backcountry. Nice atmosphere, good tree skiing, good resort overall. Easy to travel to other places. Good to be base at. 17 lifts and access to good terrain. Excellent to access the backcountry. You will find good couloir, chutes terrain and backcountry ski huts dispersed in the whole area. Day ski touring trips, breweries and overall fun town to be! It is a city but doesnt feel like it, it is well spread out.
La Hoya Ski Resort, Esquel: A small, remote, gaucho style town with a nice little ski resort. Worth to visit from Bariloche 2/3 days but no more than that I would say!
There are other variants, you can also ski in Cerro Castillo in Central Patagonia, but I recommend this as an option for your second visit to Ski Patagonia.
Anyway , I placed more information about this area here.
You can check a very good article about skiing the backcountry of  Bariloche, Patagonia, Argentina . Also, Aaron Rice, that committed to ascent 2.500.000 vertical feet in a year spent a lot of time down here and wrote a good descripted article of the Access to Bariloche Backcountry.
Have a good day and come to visit!
https://www.andescross.com/web/wp-content/uploads/2017/06/DSC5829.jpg
1089
1632
Jorge Kozulj
https://www.andescross.com/web/wp-content/uploads/2019/07/logo-final-2019.png
Jorge Kozulj
2017-06-02 07:33:14
2017-06-22 13:10:02
Tips to Ski in Patagonia, Argentina & Chile, Southamerica