GUIDED TREKKING TRIP IN LOS GLACIARES NATIONAL PARK
FITZ ROY AND CERRO TORRE 

Length Trip
From 3 to 6 days


Season
November through April


Level
Medium to advanced trekkers

Style
Trekking and Hiking

DETAILS
Operated by Official Prestador de Servicios de Parque Nacional Los Glaciares. Operado por Prestador de Servicios del Parque Nacional Los Glaciares. Contact us for any questions info@andescross.com
El Chalten,  a little remote town in Southern Patagonia, is the base town to access Los Glaciares National Park, where the jewell Mountains of Fitz Roy, Cerro Torre Massif and Patagonian Icefield are located.It is the base town to adventure in the Patagonian Mountains.
We offer few multiday treks to explore remote Patagonia, with amazing views of the main peaks of the Park with certified professional AAGM and IFMGA Mountain guides
On this treks we go as closest and deeper we can without involving any technical climbing, but getting closer to the main peaks of renown Patagonia
Some could involve glacier travel, crampons use and camping overnight.
We have several trip options to trek and hike in the Park. Some takes you to the amazing views of the Patagonian Icefield exploring the beautiful glaciers that drain in Lago Viedma and others takes you to the main glacier where starts the technical part to Fitz roy massif. Nice traverses in between glaciers. Views of Cerro Electrico, Cerro Polone, Guillaumet, Cerro Torre, Fitz Roy, Gorra Blanca and others.
There are many possibilities and according to your experience, time of the year and amount of time you have available we can customize your trip.
Check also our Mountaineering and Climbing options  for the Patagonian Ice cap and Alpine Climbs in Fitz Roy Massif
Operated by Official Prestador de Servicios de Parque Nacional Los Glaciares. Operado por Prestador de Servicios del Parque Nacional Los Glaciares. Contact us for any questions info@andescross.com
HUEMUL CIRCUIT
One of the most classic guided treks in El Chalten in Los Glaciares National Park.Trekkers will have access to views of the Patagonian Ice cap and Glaciar Viedma.
Nice guided trekking trip to  see a lot of Fitz Roy and Cerro Torre surroundings without getting involved in any technical climbing. Scenic four day hike for backpackers and hikers that visit this beautiful part of Argentina in Southern Patagonia.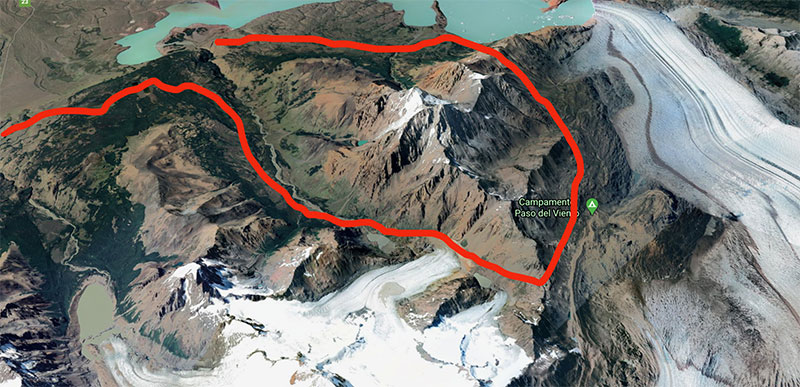 Day 1:
Chalten – Laguna Toro camp.
We walk up the Tumbado Fold throw a Beach forest. Since we start going down into the Tunel valley, we'll see the Toro lagoon and in the back the Windy pass with the Tunel glaciar falling from the south face of Cerro Solo. The camp is located at the end of the forest and the beggining of the morreins we will climb next day.
Walking time: 6 hs.
Level: easy.
Night in camp.
Day 2:
Toro camp – Viedma shelter.
We cross the Tunel canyon in a tyrolian rope, after that we climb up morreins and cross the Tunel Inferior glacier to arrive to the Windy pass (1500musl). From here we'll reach the amazing view of The Ice Cup. In one hour more and following the east face of Huemul Mountain, we arrive to the shelter.
Walking time: 6 – 7hs.
Level: difficult.
Night in camp.
Day 3:
Viedma – Shelter.
This is an excelent panoramic day. Fallowing the west face of Cerro Huemul we reach the most spectacular view of Viedma glaciar falling into the Viedma Lake, and the starting of Upsala glaciar. The biggest glaciers from the area.
Since we reach the Huemul pass  (1450musl) (Condor nests area) we start descending to the shore of Viedma lake to  settle up the last camp.
Walking time: 6 – 7hs.
Level: medium.
Night in camp.
Day 4:
We start walking to The Tunel bay to wait for the transfer to Chalten. At the Viedma shore we cross the Tunel river mouth in its last part.
Walking time: 5 hs..
Level: easy.
FITZ ROY GLACIER TREK PASO SUPERIOR TRAVERSE
An amazing southern Patagonia trek, traversing in alpine terrain as closest to Fitz Roy as you can be without technical climbing involved.
It is a pretty three day alpine glacier hike traverse in Los Glaciares National Park with lots of altitude gain.
You will surround part of the Fitz Roy Massif starting from the North and traversing towards the east. A very scenic loop.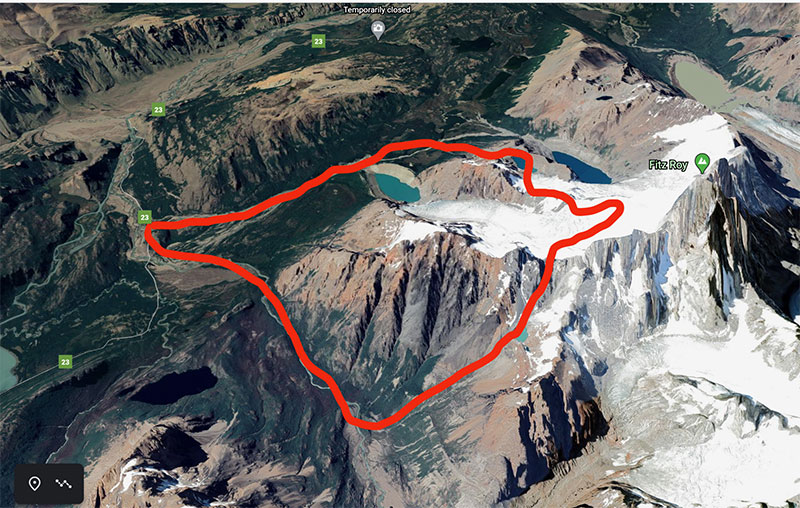 Day 1- Pack gear in the am, hike to Piedra del Fraile 2 hours- then do 1000 meters elevation gain and camp in Piedra Negra.
Possible add of 1 hour hike to Paso del Cuadrado. Stunning views of North West walls of Fitz Roy Massif and Guillaumet Spire.
Nice steep trail to get to first camp
Night in tents.
Day 2- Continue towards Paso Guillaumet, takes 3 hours on scree terrain, excellent views of massif of Cerro Fitz Roy and satellites from the East faces.
Transit Alpine Glacier walk on Glaciar Superior , the closest you can be to Fitz Roy without climbing it. Amazing views of Fitz Roy massif. Camp in Paso Superior.
Glacier activity
Night in tents
Day 3 – Descent to El Chalten, via Paso Superior and Glaciar de los tres to Laguna de los 3 and then to El Pilar. Around 5 hs day.
Nice views of Fitz Roy, beautiful guided hiking day down to Laguna de Los 3, and hike back to El Chalten with our professional IFMGA Mountain Guides
Night in Hotel
GEAR LIST
Summer/ Fall Trekking Trips and Multiday Backpacking trips
This gear list is designed for
Backpacking for Several days in the Mountains being able to carry the minimum but logical to travel light and safe in the mountains of Patagonia
Backpack 35-45 liters if you need sleeping bag bring the bigger

Sleeping bag ideal 600/700 grams of down fill

Sleeping pad as Therm-a-rest or similar

2 pairs of

 

sintethic socks (like Columbia or similar)

Hiking or Trekking boots good to deal with wet meadows and scree slopes

Gaiters

Quick dry pants with Schoeller material (North face, Mammut or similar)

Merino wool long underwear

Water proof Goretex pants

2 T shirt- Capilene or Merino wool ideal

Thin fleece, like Patagonia R1 or similar with a hood ideal

Mid fleece layer or synthetic Jacket with some insulation

Down jacket or warm puffy

Water proof Goretex jacket

Thin Fleece gloves for hiking

Thick gloves (according to season)

Warm hat

Sun hat

Sunglasses with UV filter

Sun screen and lipstick

Earplugs… very recommended (for Mt huts, windy days in tents)

Tooth brush and paste

Headlamp (Petzl Tikka plus, Black diamond or similar)

Waterbottle Nalgene or similar

Thermos 0.5 liters ideal for warm drinks

Crocs

Iphone/ Ipod music player/camara- optional

Hiking poles
Camping  Gear:

Min 2 people-
USD 980 per person
4 to 6 persons
USD 680 per person

Certified AAGM -IFMGA Mountain guide assistance.
All meals since we leave Chalten.
First Aids kit and mountain safty gear.
VHF and GPS comunications
Tent, stove, cookware
Not includes
Nights and meals at El Chalten.
Personal equipment (cloths, backpack, sleeping bag, boots, poles)
Medical Inssurance
Operated by Official Prestador de Servicios de Parque Nacional Los Glaciares. Operado por Prestador de Servicios del Parque Nacional Los Glaciares. Contact us for any questions info@andescross.com


On request-
ANDESCROSS
IS RECOMMENDED BY